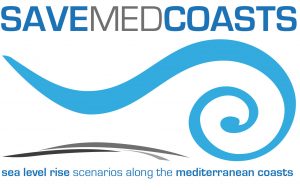 Duration: 01 December 2019 – 30 November 2021
Project Acronym: SAVEMEDCOASTS 2
Project Title: Sea level rise scenarios among Mediterranean coasts 2
Funded By: European Commission – Directorate General for European Civil Protection and Humanitarian Aid Operations (DG ECHO)
Project Information
The Sea level rise scenarios among Mediterranean coasts 2 building on the success of the SAVEMEDCOASTS (2017-2019), is a 24-month long project funded by the European Commission. 
The project focuses on prevention priority and aims to respond to the need to protect people and assets from natural disasters linked to sea level rise and climate change impacts in the most exposed river deltas and lagoons of the Mediterranean Region. This will be done by developing 1) multi-hazard approach for risk assessment, and 2) macro-regional risk assessment integrating climate change scenarios including cascading impacts. The objectives of the project are to:
Support civil society at different levels and with different tools and methods, to produce exhaustive risk assessments for different periods;
Improve governance and raising community awareness towards the impacts of sea level rise and related hazard;
Foster cooperation among science, affected communities and civil protection organisations within and between targeted Mediterranean areas.
Project Specification
Partners: Istituto Nazionale di Geofisica e Vulcanologia (Italy, Coordinator), ISOTECH Ltd (Cyprus, Partner), Aristotle University of Thessaloniki (Greece, Partner), Centre Tecnològic de Telecomunicacions de Catalunya (Spain, Partner), Remote Sensing Department Centro di Geomorfologia Integrata per l'Area del Mediterraneo (Italy, Partner), Centro Euro-Mediterraneo sui Cambiamenti Climatici (Italy,Partner), Municipality of Venice (Italy, Partner), Fondazione Ambiente Ricerca della Basilicata (Italy, Partner).
Project Expected Results
The expected results of the project are as follows:
Improve the knowledge base on disaster risk assessment and facilitate the sharing of scientific knowledge and information on climate-change scenarios, including among Member States that share common risks;
Enhance understanding of current/future coastal conditions to support civil protection planning and improve disaster risk reduction;
Enhance information through the development of high-resolution multi-hazard maps and improve databases for risk assessments;
Raise awareness of the communities and favor their capability to adapt to climate change effects. That will result on transferring part of the ownership of climate change governance to local communities;
Increase cooperation amongst geosciences, civil protection, epidemiologists and decision-makers, favoring the creation of a cross-border network and introducing new practices to approach key actors, decision-makers, and stakeholders to the understating and use of information and methods, normally restricted to the scientific community;
Education on natural hazard in targeted communities living in subsiding deltas at high risk of flooding.