ISOTECH's environmental footprint has significantly decreased between 2016 and 2017!
At ISOTECH, we are very serious about our environmental performance, and strive to continuously minimise our environmental footprint. This is why every year we monitor a large set of indicators that allow us to check our progress and identify areas of improvement. The results for 2017 are particularly positive.
Between 2016 and 2017, ISOTECH and its staff reduced their per capita energy consumption by 19.5% (see graph below) and their per capita water consumption by 14.1%. As a result of ongoing efforts to become a paperless office, ISOTECH and its staff have reduced the overall costs associated with the purchase of stationary (paper, toner and cartridges) by 49% between 2016 and 2017. Finally, as a result of overall waste reduction efforts, mainly through the separation  of recyclable waste at source, the composting of kitchen waste and the reduced use of disposable plastic items (e.g. plastic bags and take-out containers), reductions in per capita production of all  types of waste (organic, recyclable and residual) have been observed (see graph below). Finally, as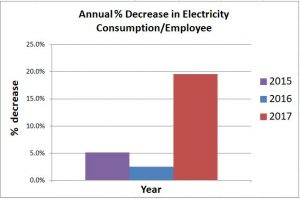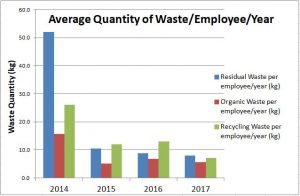 To find out more about ISOTECH's commitment to environmental protection, see our Certifications.